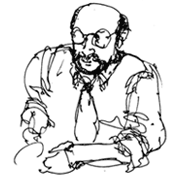 A collection of podcasts of Steven Heller's lectures from the School of Visual Arts and other talks to watch and listen to. Here you can also find links to interviews with Steve on Kurt Andersen's radio program, Studio 360°.
To download on a Mac: Hold down the Control button and click (or right click if your mouse allows) and 'Save Link as'. To download on a PC: Right click the 'Download MP3' link, and 'Save Target As'.
If you are using another browser that has different methods, the key point is to save the MP3 files in the same way that you save other files, such as PDFs and images, via your browser.
PAUL RAND LECTURE SERIES PRESENTED AT THE SCHOOL OF VISUAL ARTS
Listen to various lectures given on the history of graphic design by Steven Heller at the School of Visual Arts as part of the MFA Designer as Author program.
INTERVIEWS WITH STEVEN HELLER
New York Times Podcasts
Philoctetes Center Podcasts
Helvetica: Typography and LiteracyParticipants:Christopher Calderhead, Arem Duplessis, Steven Heller (moderator), Elinor Aishah Holland, Gary Hustwit, Elaine Lustig Cohen
The Design of Influence: How Images and Words Sway MindsParticipants:Steve Brodner, Steven Heller (moderator), Paul Starr, Jason Young
The Mind of the CollectorParticipants: Steven Heller, Leah Dilworth (moderator), Eric Edelman, Dorothy Globus, Bill Scanga, and Tyler Volk
OTHER LECTURES AND PRESENTATIONS
ICON5 PODCASTS
CORE 77 PODCASTS
STUDIO 360° RADIO BROADCASTS
In Studio 360 Kurt Andersen—novelist, journalist, and co-founder of legendary Spy magazine—is our guide to what's happening in the culture.
Click Here for a listing of radio broadcasts with Steve Heller. Please note, these archives are available to be streamed in Real Player (click to download) format. The free version is all you need.
FAITH MIDDLETON SHOW (WNPR)
The Faith Middleton Show For more than 25 years, the two-time Peabody Award-winning Faith Middleton Show has been widely recognized for fostering insightful, thought-provoking conversation. Faith Middleton offers her listeners some of the world's most fascinating people and subjects. Lori Mack and Cameron Henning are producers of the show, which has been inducted into the Connecticut Magazine Hall of Fame as "Best Local Talk Show".
DESIGN OBSERVER INSIGHTS PER MINUTE
DESIGN MATTERS WITH DEBBIE MILLMAN
Design Matters with Debbie Millman is an opinionated and provocative internet talk radio show. The show combines a stimulating point of view about graphic design, branding and cultural anthropology. In a business world dependent on change, design is one of the few differentiators left.