Iron Graphics: Branding Totalitarian States
December 27, 2007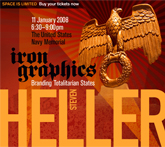 On Friday, January 11, 2008, Steven Heller will be giving a presentation to the Art Directors Club of Metropolotian Washington at The United States Navy Memorial.

Steven Heller will offer a historical analysis of the state of the leading twentieth century totalitarian regimes through the lens of graphic design. With research from his current book, Iron Fists: Branding the Totalitarian State (Phaidon Press, Spring 2008), Heller describes how major dictatorships in modern history used graphics and design to propagate their ideologies. From Mussolini to Nazi Germany to Lenin, totalitarian regimes maintain themselves in political power by means of propaganda (among other tactics) disseminated through the state-controlled mass media. Heller dissects these graphics using the language of contemporary branding.

To learn more about this event, including how to register, click here.
Whatıs In A Name?
December 27, 2007
Steven Heller comments on bloggers use of pseudonyms in posting online in his most recent installment on Design Observer.
It's Easy to Criticize… Not
December 19, 2007
In his latest post for Design Observer, Steven Heller examines the critical commentary on design's do-goodery put forth by Vanity Fair media critic Michael Wolff at Designism 2:0.
The Education of a Comic Artist Acknowledged
December 10, 2007
Blogger emonome recently acquired The Education of A Comics Artist, written by Michael Dooley and Steven Heller and has posted a very detailed review on his blog emonome.com.
Holiday Book Review: The Latest Visuals Column
December 2, 2007
In his latest Visuals Column for the New York Times, Steven Heller reviews 9 rich visual books for this holiday season including: James Aulichıs War Posters: Weapons of Mass Communication (Thames & Hudson, Street Art and the War on Terror: How the Worldıs Best Graffiti Artists Said No to the Iraq War(Rebellion/Trafalgar Square), Vietnam Zippos (University of Chicago), José Lorente Cascalesıs Rolling Paper Graphics (Gingko), Stephen J. Eskilsonıs Graphic Design: A New History (Yale University), Mark Ovendenıs Transit Maps of the World (Penguin), Laetitia Wolffıs Massin (Phaidon), AGI: Graphic Design Since 1950 (Thames & Hudson), edited by Ben Bos and Elly Bos, Aaron Douglas: African American Modernist (Yale University/Spencer Museum of Art, University of Kansas), edited by Susan Earle, and Iconic America: A Roller-Coaster Ride Through the Eye-Popping Panorama of American Pop Culture (Universe), by Tommy Hilfiger with George Lois .
Steven Heller Comments on Layer Tennis
November 16, 2007
Steve Heller makes a guest appearance on the Coudal Partners website to comminate on a match of Photoshop Layer Tennis between Aaron Draplin and David Nakamoto. To find out who wins and what Steve really thinks of the game of tennis, vist the Coudal Partners website.
Interview with WNPRs Faith Middleton
November 15, 2007
Faith Middleton of WNPR talks with Steve Heller about his exhibition at SVA, typography, the topic of how posters have changed in their roll of communication as well as his career as a designer, author, critic and collector.
Steven Heller at the Core 77 Event: Design, Wit, and the Creative Act
November 12, 2007
Steven Heller presented a short visual catalogue called "20 Things That Make Me Chuckle." Included in the eclectic roundelay were Homer Simpson, Mother Teresa Breath Spray, Mickey Mouse, and "anything with f--k in it. You can read more about the event here.
Basline Magazine Congratulates Steve Heller
November 12, 2007
Baseline Magazine has posted a page on their site recognizing Steven Heller and his recent Masters Series exhibit at SVA.
Magical Mysteries
November 11, 2007
Steven Heller reviews 3 new children's books for the New York Times Book Review; Puff, The Magic Dragon By Peter Yarrow and Lenny Lipton, American Dreaming How Youth Changed Ameria in the Sixties by Laban Carrick Hill, and YEAH! YEAH! YEAH! The Beatles, Beatlemania, and the Music That Changed the World. By Bob Spitz.
Steven Heller Profiled by Mad.co.uk
November 1, 2007
Steven Heller is constantly 'on", and always has a range of book projects on the go. Liz Farrelly of Mad.co.uk marvels at his ceaseless energy, as he is honoured by a show at the School of Visual Arts in New York.
Two More Interviews with Steve Heller
October 30, 2007
Read two more interviews with Steve Heller, the SVA Blog, CRIT interviewed Steve on his early morning tendencies, while Treehugger.com briefly talked to Steve about his role as a design thinker.
Heller Week on Unbeige.com
October 26, 2007

The design blog unbeige.com from Media Bistro covered this weeks happenings with Steve Heller (affectionately referring it to Heller Week) including the opening of his exhibit and his discussion with Michael Bierut. Catch some of the classic sound bites from their conversation.

You can download a copy of the exhibition catalog here or vist the Catalogs page of this site.
The Talented Mr. Heller
October 24, 2007
Paper Cuts, the New York Times blog about all things book related featured Steve Heller in today's post and his exhibition currently on view at the Visual Arts Gallery.
White is the New White
October 24, 2007
Heller looks at the roll of white in design in A Brief Message.
Steven Heller Masters Series Exhibition a the School of Visual Arts Opens
October 22, 2007

Curated and designed by Kevin O'Callaghan, chair of 3D Design at SVA, the exhibition highlights the inspiration and collaboration behind Heller's many achievements as a writer and art director. On view are over 100 covers of The New York Times Book Review that Heller art directed and a visual anthology of his major publications, with select volumes available to peruse. An adjacent video installation features interviews with co-authors Mirko Ilic, Lita Talarico (co-chair of the MFA Design Department at SVA), Seymour Chwast, Marshall Arisman (chair of the MFA Illustration as Visual Essay Department at SVA) and Gail Anderson (on the faculty of the MFA Design Department at SVA) about their collaborative process. Nearby, visitors can browse Hellerıs many contributions to American and foreign periodicals at a full-scale replica of a New York City newsstand. The centerpiece of the multimedia display will be a larger-than-life photo montage of Hellerıs library with recorded commentary about his collection of design ephemera and its role in his research and writing. In a series of video podcasts specially commissioned for the exhibition, Heller discusses design in the context of popular culture, politics and history.

The Exhibit is on display from October 22 - December 8, 2007 at The Visual Arts Museum located at 209 East 23 Street, New York, NY 10010
Gothamist interview with Steve Heller
October 22, 2007
Steve talks to Jill Priluck of the Gothamist about his love of New York, his career and his retrospective at the School of Visual Art's Visual Arts Museum.
New Books from Steve Heller.
October 17, 2007

Steven Heller has added to his growing catalog of books with 4 new titles, including an introduction for Debbie Millman's new book How to Think Like a Great Graphic Designer, an introduction for Meggs: Making Graphic Design History, New Vintage Type: Classic Fonts for the Digital Age a collaborative effort with designer Gail Anderson as well as Becoming a Digital Designer: A Guide to Careers in Web, Video, Broadcast, Game and Animation Design; another collaborative effort, this time with Adobe Think Tank editor David Womack.
Interview with Steve Heller
October 4, 2007
Ben Kessler of Graphics.com interviews Steve Heller on his next book Iron Fists: Branding the Totalitarian State, due next year from Phaidon and talks about his upcoming retrospective exhibition at the School of Visual Arts Museum (October 22 through December 8, 2007).
Decorative Books: The End of Print
September 27, 2007
Steve Heller examines the topic of bookdecor having rediscovered a 1956 book/zine titled The New York Times Shows You 65 Ways to Decorate with Books in Your Home and questions what will happen with all of our printed matters as digital technology continues to grow.
Heller Calls New Taxis Tacky
September 25, 2007

Steve Heller weighs in on the redesign of the New York City Taxi logo by Smart Design.
Words Into Type
September 9, 2007
Steve Heller reviews 5 new books for the New York Times Sunday Book Review, including: BARNBROOK BIBLE: The Graphic Design of Jonathan Barnbrook, VIGNELLI: From A to Z, FLY NOW! A Colorful Story of Flight From Hot Air Balloon to the 777 "Worldliner", RENŠ BINET: From Nature to Form, and BEARS from Kent Rogowski. You can also check out a podcast from the Times with Steve Heller hosted by Sam Tanenhaus.
Dorm Drop-Off: Making a Nightmare into a Dream
September 5, 2007
Steve Heller draws on his decades of acquired design know-how and lessons learned to give strategic steps to help ease the move-in process for college students for Core 77's Hack-to-School.
Is Illustration a Big Enough Profession?
September 4, 2007
In the latest issue of Varoom Magazine, Steven Heller argues that commercial illustration has reached a critical point in its evolution. Heller notes that there are more illustrators than ever before. But his concern is not with quantity, but with quality.
Heller's Iron Fists
September 4, 2007
At Berlinĵs Typo conference, Gerrit Terstiege interviewed keynote speaker Steven Heller, author and editor of more than 100 design books, about one of his biggest projects, the book "Iron Fists ' Branding the Totalitarian State".
An Inconvenient Truth
September 4, 2007
A brief message from Steve Heller questioning the continued lifespan of print.
MFA Design Criticism
September 1, 2007
Steve Heller and Alice Twemlow launch the MFA Design Critism program at the School of Visual Arts in New York.
How Do We Make Our Mark?
August 15, 2007
Steve Heller and Jessica Helfland take a look at the history, methods and styles of penmanship with Good Magazine
How Do We Understand Each Other?
August 14, 2007
Steve Heller teams up with Brian Collins to write about accessible graphic icons for Good Magazine
Design Criticism MFA
August 13, 2007
This past spring, The School of Visual Arts announced the birth of a new Masters study in Design Criticism, to begin fall of 2008. Steven Heller is helping to develop the curriculum with Alice Twemlow, who will also be the chair of the department. Focusing on such a specific topic in criticism might seem risky, but as CRIT sat down to speak with Steve and Alice there was a sense of energy and overwhelming enthusiasm from the design community at large (even the proposed Faculty list reads like an AIGA town-hall meeting), and suggestions of new formats and discussions for the way we act and react to design.
Parachute Drop. Steve Heller on Studio 360
July 22, 2007
Steve Heller tells the story of a seaside landmark known as the "Eiffel Tower of Coney Island " on Kurt Anderson's Studio360.
Leon Friend: One Teacher, Many Apostles
July 21, 2007
Steve Heller writes on the work of high school teacher Leon Friend whose curriculum placed the applied arts in both an historical and practical context.
Guess Who?
July 20, 2007
Steve Heller writes the introduction for Guess Who? The Many Faces of Noma Bar.
Steve Heller talks about his career as an art director with the New York Times
July 11, 2007
Zina Saunders interviews and illustrates Steve Heller for Drawger.com.
Satiric Interview with iPhone Master Gets Mixed Reviews
July 3, 2007
Heller's fake interview with Steve Jobs confuses some, angers others, and pleases those in the know. Read the original AIGA Voice post here.
Heller on YouTube
June 25, 2007
If you missed it the first, second, and third times it was aired on CBS Sunday Morning, here's your chance to see me, Jonathan Hoefler and Tobias Frere-Jones again in living YouTube color - presenting Font Design.
Heller cites W.A. Dwiggins' as major inspiration
June 22, 2007
In Grafik magazine's anniversary special brick of a volume of personal influences, Steven Heller cites Dwiggins as a personal influence.
Martin Weber in the Third Dimension
June 19, 2007
Steven Heller profiles Martin Jack Weber, inventor of Posterization on Design Observer
Serious Fun
June 6, 2007
Steven Heller writes on the latest exhibit from the School of Visual Arts MFA Design program "Serious Fun." The SVA MFA Designer as Author class of 2008 tackels kid's stuff in the real world, addressing social issues in the form of children's toys. The show was curated by Kevin O'Callaghan and co-curated by Steven Heller and Lita Talarico.
Steve Heller in the New York Times Book Review Podcast
May 31, 2007
Steven Heller will appear in this Friday's (June 1, 2007) New York Times Book Review Podcast. Also, be on the lookout for his second VISUALS column that will appear in this Sunday's Summer Reading issue of the Book Review.
Paul Rand Poster Exhibition
May 30, 2007
Steven Heller on the work of designer Paul Rand in the 18th International Poster and Graphic Arts Festival of Chaumont.
New Nose on WAR
May 29, 2007

The latest of Seymour Chwast's The NOSE (#15) edited by Steven Heller includes a list of every war since 3300 BC and a visual history of the "well-dressed soldier"
The Anatomy of Design Reviewed by B92 Kultura
May 11, 2007
See the review here.
The Nazi Triangle
April 16, 2007
Steve Heller writes on the the inverted triangle design and Nazi identification systems on Design Observer.
Heller talks about Big Boy on Studio 360
April 13, 2007
Steve Heller champions the Big Boy restaurant trademark on Design For the Real World on Studio 360 with Kurt Andersen (on WNYC at 10 a.m./Saturday on FM and 7 p.m./Sunday on AM. Listen to the archieved radio cast here. You will need Real Player in order to listen to all casts from the Studio 360 archives.
Steven Heller to speak at Typo Berlin: May 17 - 19 2007
April 9, 2007
TYPO is a showcase for graphic, motion, web, game, typography, sound, corporate and boundless design, from all over the world, compacted and condensed into a 3-day programme, in three parallel series of discussion themes. Read the FontBlog post here.
"Visuals" launches April 8
April 6, 2007
Steven Heller's quarterly New York Times Book Review column, "Visuals," covering books on visual culture (and that includes design) begins.
Steven Heller interviews Sara Fanelli in the new issue of Varoom
April 6, 2007
In the latest issue of Varoom Magazine, Steven Heller interview the celebrated book illustrator Sara Fanelli who draws from a rich gene pool of mythology, literature, art and playfulness. Her philosophically inclined imagination has created a body of work that challenges and delights in equal measure.
New Books from Steven Heller
March 28, 2007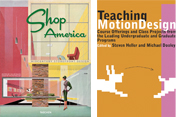 Shop America: Midcentury Storefront Design 1938-1950 edited by Jim Heimann with introduction by Steven Heller is now in Stores.
Teaching Motion Design edited by Steven Heller and Michael Dooley is set for release in Fall 07
Heller Talks on Taxi
March 28, 2007
Heller, Sagmeister, and Kidd give good tips in interviews with Design Taxi
Dissecting Designers: An Interview with Steven Heller
March 16, 2007
Heller talks about his book with Mirko Ilic, The Anatomy of Design:Uncovering the Influences and Inspirations in Modern Graphic Design in an interview by Craig Schlanser of AIGA Philadelphia.
Heller, Helfand, and Drenttel in New Orleans.
March 11, 2007

What a thrill it was to spend time with AIGAers and students at their first portfolio review since Katrina. Their good will and courage is an inspiration.
Heller writes introduction for Chermayeff & Geismar exhibition in Turkey
March 10, 2007

Chermayeff & Geismar: Symbols, logotypes and graphic design from the last five decades The galleries of Pera Museum host the works of outstanding artist and friend, Ivan Chermayeff and his esteemed partner Tom Geismar, who are the distinguished guests of the Museum and of Turkey. Jan 1 - July 1 2007.
Considered as one of the most brilliant graphic designers of the 20th century, Ivan Chermayeff has created a number of truly memorable designs with his partner Tom Geismar and has honored our country several times with his presence.
Through his unique and exceptional works on the emblem, logo and corporate identity designs of KoÁ Holding and various other KoÁ companies, he has made it possible for the names of these institutions, and by extension of Turkey, to be acknowledged by the world of design.
The Daily Heller
March 9, 2007
Tidbits and more from a curious mind.
Hello, Sucker
March 4, 2007
Louise Fili and Steven Heller design lace lettering for William Safire's column "On Language" in the New York Times Magazine.
Heller Responds to Students
March 1, 2007
Every week I get requests from students to answer their various queries about life, liberty, the pursuit of happiness, and the profession. This series of questions from a student in Leeds, England, was one of the most challenging so I am posting the exchange for the benefit of all:
1. It has been said that illustration occupies a space between art and design. If this is the case then it was perfectly placed to combine technology with more traditional crafts. Why do you think that illustration failed to embrace technology in comparison to graphic design and photography?
Illustration is mostly hand-work (or at least traditionally so). Most artists who practice are indeed artists with strong ties to classical methods. That said, I frankly don't think that illustration was that late in embracing technologies. I know many illustrators who jumped aboard instantly, while others took longer. Mirko Ilic is a terrific example of one who work solely with laborious hand techniques and then pioneered laborious computer techniques. The intelligence of the work is the constant, the media have changed, but one is an extension of the other. Of course, there are still MANY who are painting, drawing, engraving, and collaging still. Art is about many things, and the artists voice embraces many media.
Graphic design has long been more a craft than art, and therefore had to embrace the current craft tools. And photography was always mechanical. Clearly with digital technology made available to photographers they would jump on the wagon.
2. After the introduction of technology, illustration appeared to fall into a state of decay and remained this way until recently. Do you think that the older generations of illustrators hampered the transition to digital image making due to a lack of understanding?
Not in the least. I think that new technology always has allure, and always brings a level of flux in its wake. I still see great illustrators working with traditional media. But I also see many of the traditionalists adapting their methods, seamless, to the new tools.
3. If illustration hadn't fallen into decline do you think that stock houses would have become so widely used within the creative industry?
I don't feel its fallen into decline. I feel its shifted from a basically editorial and advertising based industry or art, to a broader practice that involves typography, animation, etc. Stock houses—which have long existed in the flourishing photography field—were inevitable. More than technology BUDGETS are a big issue. And BUDGETS are connected to the health of the editorial field, which is also in flux. So as far as I'm concerned stock was meant to be, and it has simply put more pressure on illustrators and art directors to be more creative about how they practice.
4. As time progressed culture adapted to the digital way of life, whereas on the other hand illustration made little attempt to adjust (apart for a few exceptions) and declined. Do you think that the root of this problem lay in the lack of creative work being produced or the introduction of technology?
I disagree entirely. We've all adapted to the digital. Its our electricity. When artists worked under artificial light as opposed to natural light things changed in terms of form, but it was a natural evolutionary adaptation. I think the same has happened today. Its all a natural re-emphasis. Its not decline per se, but reallocation. Illustration still plays a vital role in visual communications and will continue to do so.
5. A new younger breed of illustrators has emerged recently and is redefining the term illustration, why do you think this is happening now?
Nature and nurture. If it didn't happen the field would die. Every generation brings new ideas, and a new definition is part of those new ideas.
6. The education of illustrators and graphic designers has changed noticeably in recent years, focusing on the integration of students and the importance of technology. Is there a risk that, with the ever-increasing development of the digital medium, the traditional skills of illustration will be lost?
Possibly some archaic methods will become obsolete. But again, that's natural. And then, like those who prefer vinyl to CDs to online digital, there will always be those who carry the flame. Same is true in design with letterpress. Its totally arcane, but still lovingly practiced.
Recollections of the Old Monocle Magazine on DesignObserver
February 27, 2007
A whole lot of blog hoopla has been recently generated about Monocle, the spanking new art, culture and issues magazine from Wallpaper's creator Tyler Brûlé. He's the guy who brought neo-classic post-European modernism to lifestyle publishing. Although Monocle looks nothing like its predecessor, it promises to be the next new thing in integrated web and in print publishing—a very laudable endeavor to be sure—deserving serious analysis and review. But this is not going to be that. In fact, this is not even an article about Brûlé's magazine at all—but rather a look back to another, virtually forgotten but decidedly important, magazine with the very same name—one that published under the motto, "In the land of the blind the one-eyed man is king."
Steven Heller interviewed on "Design Trends"
February 26, 2007
Steven Heller is interviewed by Gael Towey on her show "Design Trends" on Wednesday, Feb 28, 9 a.m. and Sunday at 12 p.m. on Martha Stewart Radio on Sirius Radio
Handwritten reviewed in Atlantic Monthly March 2007
February 14, 2007
In the March 2007 issue of the Atlantic, Terry Castle ponders The Next Existential Question: What Font? by reviewing a few instructive and seductive volumes of fontmania including Handwritten by Steven Heller and Mirko Ilic. Click here to read the article.
Steven Heller Examines the Mushroom Cloud Symbol
February 7, 2007
In the January/February 2007 issue of the Bulletin, Doomsday Clock creator Martyl is featured in a review of the image's evolution and impact. Author and graphic designer Steven Heller looks at the mushroom cloud symbol and how it became the indelible symbol of terror in the nuclear age. Click here to read the article.
New Vinatage Type book Coming Soon
February 5, 2007

New Vintage Type is a critical survey of how modern artwork uses old type to evoke another time and place. Organized into five chapters by historical period, the book features hundreds of lively examples that prove that our type heritage has a place in the colorful graphic world of today. Steven Heller and Gail Anderson
The Anatomy of Design Featured in Media Marketing
February 1, 2007

The Anatomy of Design by Steven Heller and Mirko Ilic was featured in the Bosnian Advertising Magazine Media Markting.Download a PDF
UnBeige Interview
January 29, 2007
UnBeige editor Alissa Walker turns the tables and asks "So What Do You Do, Steven Heller?"
I Am Plastic Book Review
January 27, 2007

In "I Am Plastic: The Designer Toy Explosion," Paul Budnitz, founder of Kidrobot, one of the most prodigious retailers of designer toys in the United States, and co-creator of the Dunny doll, showcases many of the more adventurous toy designers and their wares.
Chinese Edition of Becoming A Graphic Designer
January 26, 2007

The third edition of this book from Wiley Press hits the stores
Steven Heller writes about Nazi typography
January 16, 2007

Eye #62 http://www. eyemagazine.com/feature.php?id=134&fid=605
Steven Heller's Seedy Past Uncovered
January 12, 2007
Download a PDF of a rare article by Claudia Dreifus from New York Scenes, July 1969